Combat Support Hospital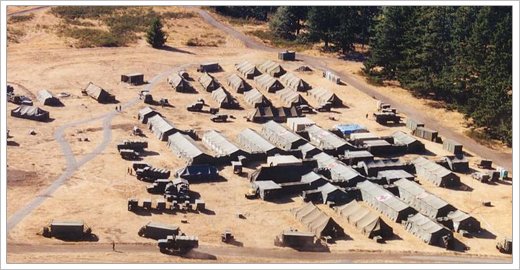 Aerial view of Combat Support Hospital, Fort Lewis, Washington, 2000
PBS' NOVA / Life and Death in the War Zone
A combat support hospital is a modern medical marvel. It can be erected relatively quickly, almost anywhere, and it can accommodate hundreds of wounded soldiers at one time. Treating traumatic injuries that require surgery is the main function of a combat support hospital, with immediate transport to a fixed medical facility far from the battlefield as the second most important mission of the hospital unit.
The combat support hospital, or CSH (pronounced 'cash') is the next generation of the Mobile Army Surgical Hospital, or MASH, the army medical facilities of the Korean War made famous in the 1970 blockbuster film, M*A*S*H, and its spin-off TV series by the same name. MASH's canvas tents have been replaced by tents with more durable walls and roofs, technology is more reliable, and air conditioning is abundant.
Each CSH is constructed from a series of identical tents, allowing the freedom to build a facility of whatever size or configuration best meets the needs of the moment. The average CSH maintains 84 patient beds but some require no more than 16 while those in other locations may necessitate as many as 256 patient beds.
The military medic and his team enjoy the benefits of modern medical technology in this climate-controlled environment. Each CSH is equipped with its own x-ray and CT scanning equipment, laboratory, pharmacy, and dental facility. Generators dedicated to each CSH unit ensure the power supply remains uninterrupted.
Each CSH consists of two components:
The HUS, or Hospital Unit Surgical – This is the entry point for wounded warriors. All emergency medical procedures and surgeries happen in the HUS. Personnel here include surgeons, anesthesiologists, surgical nurses and technicians, and all other necessary support personnel.
The HUB, or Hospital Unit Base – All administrative and support personnel work in the HUB. They include doctors, nurses, food service and laundry workers, biomedical engineers and technicians, hospital administrators, and even the CSH's motor pool personnel.
The CSH is much more durable but not as mobile as the MASH units of old so the CSH is situated far enough away from battlefields to ensure safety without the need to relocate in haste. MEDEVAC units, or helicopter ambulances, remove wounded soldiers from the battlefields, bringing them to the HUS unit of the Combat Support Hospital.
Once stabilized in the HUS, patients are released to the HUB, where they are assigned hospital beds and receive follow-up care until they are stable enough for evacuation. When ready for transport to a fixed-location military hospital, such as those in the United States or Europe, the US Air Force provides transport of wounded Army soldiers.
The US Navy uses the same equipment in its hospital ships as the Army uses in its CSH units.